About the Author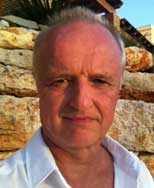 Adrian Sear owns a recording studio in London and works frequently in Los Angeles.

His career spans over 30 years in Music & Television. A graduate of both the London Chamber of Commerce and Royal Society of Arts in Advertising. This kicked off 3 years in an agency specializing in copy and account handling.
Then moving to his original love of radio, his career moved into sound recording. He developed a reputation for the comedy side of showbusiness. Advertising Clios and RIAA Gold & Silver discs are just some of the music industry awards he has collected along the way.

His experience covers literally every form of music.

Pre and Postproduction, casting actors in TV animation, video games and 000's of TV & radio ads.

He has mixed for History and Culture documentaries, Celebrity TV shows, 'Hollywood Women', 'Whickers World' and 'Joan Collins London' amongst many, many others.
Adrian's time is spent between Surrey, England and Southern California with his partner Sue and two Tonkinese cats.